Pragmatic Play Advances LATAM Mission at Colombia's GAT Expo Cartagena
Third LATAM Mission for the Leading iGaming Provider
Pragmatic Play, a premier content provider for the iGaming industry, is set to embark on the third chapter of its Missions program across Latin America. The company will have a comprehensive presence at the GAT Expo Cartagena event in Colombia.
The 2023 Latam Missions itinerary is designed to strengthen Pragmatic Play's standing as a top brand in the region, with a focus on enhancing and elevating its gameplay experiences.
Spaceman Character Takes Center Stage
The company's popular Spaceman game, beloved by Latin American players, will be the face of the latest stop on the 2023 event calendar. The Pragmatic Play flagship game will be showcased at the Las Américas Convention Center from March 29 to 30.
Pragmatic Play will serve as a Premium sponsor for the show, occupying a prominent space on the exhibition floor. Victor Arias, the company's Vice President of Latin American Operations, will participate in another panel as a guest speaker, sharing his valuable industry insights.
Victor Arias commented on the opportunity, saying, "GAT Expo represents another opportunity for Pragmatic Play to leverage its platform in the region and engage in dynamic interaction with its partners, friends, and followers."
He added, "We've established a solid base for ourselves in LatAm, and events like these allow us to sharpen our focus on localization and further growth."
GAT Expo 2023: A Showcase of Gaming Industry Innovations
The GAT Expo is scheduled to take place in Cartagena from March 29 to 30, 2023. The event showcases Colombian and international companies' innovations related to the gaming sector. It is held annually at the Las Américas Convention Center, typically in March.
During GAT Expo, attendees will have the opportunity to network with national and international exhibitors from the gaming industry. The event's focus on gaming innovations makes it an ideal platform for Pragmatic Play to strengthen its presence and commitment to the LATAM market.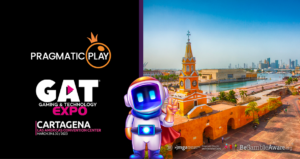 Pragmatic Play Advances LATAM Mission at Colombia's GAT Expo Cartagena
A quality casino for Pragmatic Play games

Pragmatic Play games are available on 1xBet, one of the most famous and trusted online casinos. We invite you to come and play Pragmatic Play Live Casino games and Slot Machines the way they are meant to. On 1xBet.
Use code PRAGMATICPLAY when signing up to get access to your exclusive 130% welcome bonus!
See what else Pragmatic Play has to offer
Try Slots and Live Casino games from Pragmatic Play
Pragmatic Play commits to quality on every vertical